Veterinary Neurology & Neurosurgery in Winston-Salem
Neurological Care for Pets Winston-Salem
Our board-certified veterinary neurologist at Carolina Veterinary Specialists in Winston-Salem specializes in diagnosing and treating disorders of the nerves, spinal cord, muscles, and brain. 
Please Note: A referral from your primary care veterinarian is required before making a neurology appointment.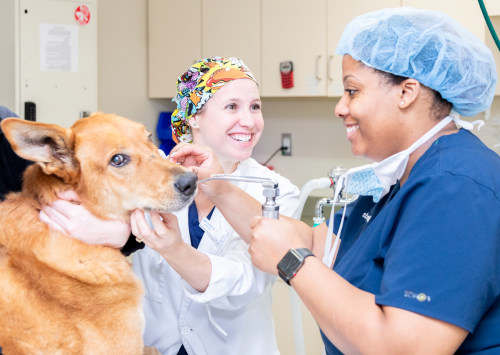 Our Neurology & Neurosurgery Services
At Carolina Veterinary Specialists in Winston-Salem, pets with neurological conditions are diagnosed and treated by our board-certified veterinary neurologist, who provides comprehensive medical and surgical care for these animals.
Once you receive a referral to our hospital, the neurologist will conduct a thorough neurological exam to find out if, and what part of, your pet's nervous system is affected by the disorder. 
Following the exam, the neurologist will explain the most probable causes for your pet's issues, including diagnostic tools and tests required to determine the precise cause and treatment options, which may include intensive care, surgery, or medical therapy. 
Our Board-Certified Veterinary Neurologist
A board-certified veterinary neurologist has obtained a doctorate in veterinary medicine (DVM), and has gone on to receive additional specialized training in the field of veterinary neurology. This training consists of a residency, during which the veterinarian studies a range of neurological diseases affecting a number of animals. An extensive examination process follows.
Common Neurological Conditions
Neurological conditions commonly treated by a veterinary neurologist include:
Tremors 
Behavioral Changes
Spinal Pain
Leg Paralysis and/or Weakness
Balance Problems
Seizures
Intervertebral Disc Diseases